MKFM Review: Bottomless Brunch at Banana Tree
Jodie Erica visits Banana Tree at The Hub Milton Keynes to experience their Pan-Asian bottomless brunch, here is her full review...
Tue 16 Aug 2022 - posted by
theHub
Banana Tree has been gracing many countries with their delicious Pan-Asian street food for over 30 years. Founder, William Chow started it all from a small cafe in Maida Vale that was originally called Street Hawker, they have made some amazing expansive moves over the years, with 9 Banana Tree restaurants in London, Chelmsford, Oxford, and our city, Milton Keynes.
Banana Tree is famous for its finest hand-picked dishes from Thailand, Singapore, Indonesia, Vietnam, and Malaysia. They are also very well known for their plant-based alternatives and proudly own the fact that more than 40% of their menu is plant-based, so everyone can enjoy a meal at Banana Tree.
You will find Banana Tree located in The Hub, a prime location in the very heart of Milton Keynes.
Stepping into a Banana Tree restaurant is like stepping into an inside terrarium jungle, it's Tarzan eat your heart out but 2022 mode with swinging hammocks, full of greenery and modern, sleek design and decor. It's a very relaxed environment full of friendly staff who greet you upon arrival and show you to your table.
I and my partner were invited to try the 3-course Asian-Pan bottomless brunch, this is the first time I have ever brunched before so you can imagine my excitement, especially since I was given the opportunity to try foods I haven't tried before which is one of my favourite things to do.
The service is super quick and full of smiles, there's never a dull moment whilst waiting for the first round of drinks to arrive alongside our starters, Banana Tree has such a good music playlist that keeps you entertained whilst chatting away. I find that's always an important factor for me when eating dinner out, I love places that provide good music to wind down too.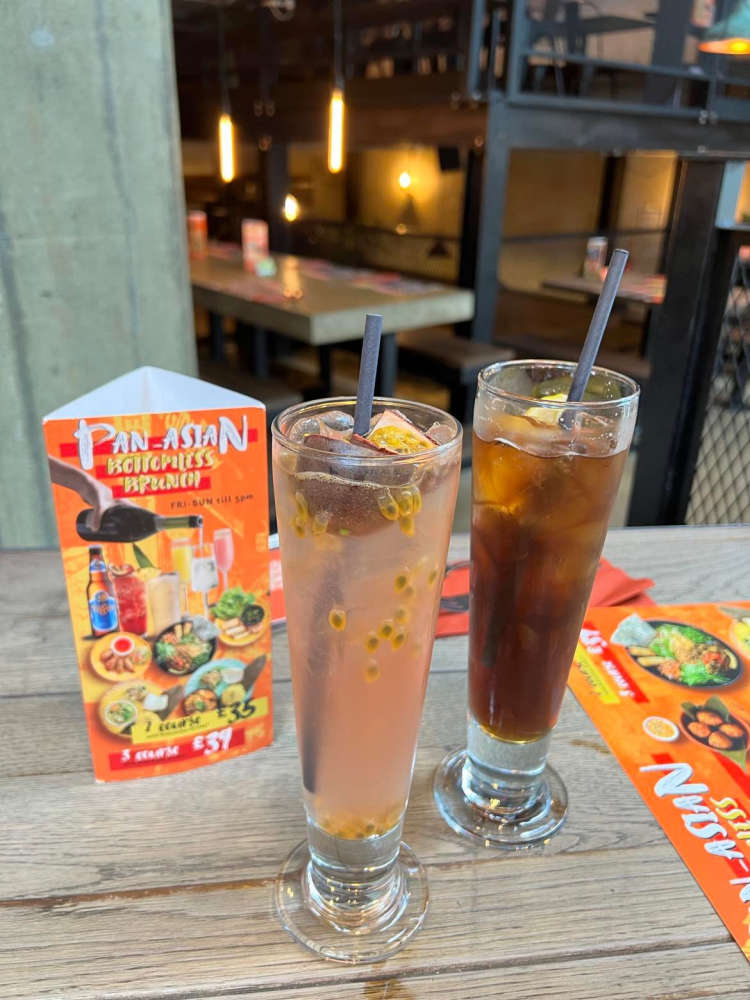 With Banana Tree's bottomless brunches, you get the option to stick to the usual drinks, for example, bottomless Prosecco, Bellini, soft drinks or mocktails or, you can upgrade to alcoholic cocktails for an extra £5 per person, this is the option we went for because the cocktails looked absolutely scrumptious in the picture and of course, it was a Friday evening!
I can confirm that the cocktails are true to the pictures, during our visit I ordered and tried a Come Love Me Longtime which consists of Passoa and Vodka, with freshly pressed passion fruit topped up with lemonade, and a Strawberry Daiquiri, which is rum mixed with fresh lime and blended strawberries.
Come Love Me Longtime was very refreshing and fruity and it has a very nice light fizz to it, you can taste the passion fruit but it's not too overpowering which I love, to top it off was the presentation of the cocktail, it looks super cool in the tall glass with all the bits of passionfruit on show, FYI, you will eat some of the bits as you drink along so I hope you are a passionfruit fan.
Who doesn't love a Strawberry Daiquiri? I find that many places have their own ways of doing them and I am very fond of these particular cocktails myself. Banana Tree makes them beautifully, the strawberry was cold and sweet but also easy to drink, as I also find that at some places they can be a bit on the slushy side... but these were stunning and I will be back for more.
I tried the Sweetcorn Fritter Balls and Spicy Mayo for the starter, I have never tried them before and I was instantly committed to finishing them off from the first bite. They taste as good as they look, nice and hot with a lovely crunch to them filled with flavour and sweetness, they do have a slight kick which intensifies the more you eat but I really enjoyed that. If you read my reviews you will know all about me with hot and spicy foods, I can proudly say that I have definitely gone up a level.
The Spicy Mayo is super creamy and sweet, it's the perfect dipping addition to have with the fritters, and it was very addictive.
The main course I tried was the Bun Bo Chicken Jawa, a very popular Vietnamese dish. It comes with an abundance of healthy salad, rice vermicelli, fresh herbs, crushed nuts, crispy shallots, vegetable spring rolls, a sesame cracker and chicken, to top it off there is a small dish full of Nuoc Cham sauce.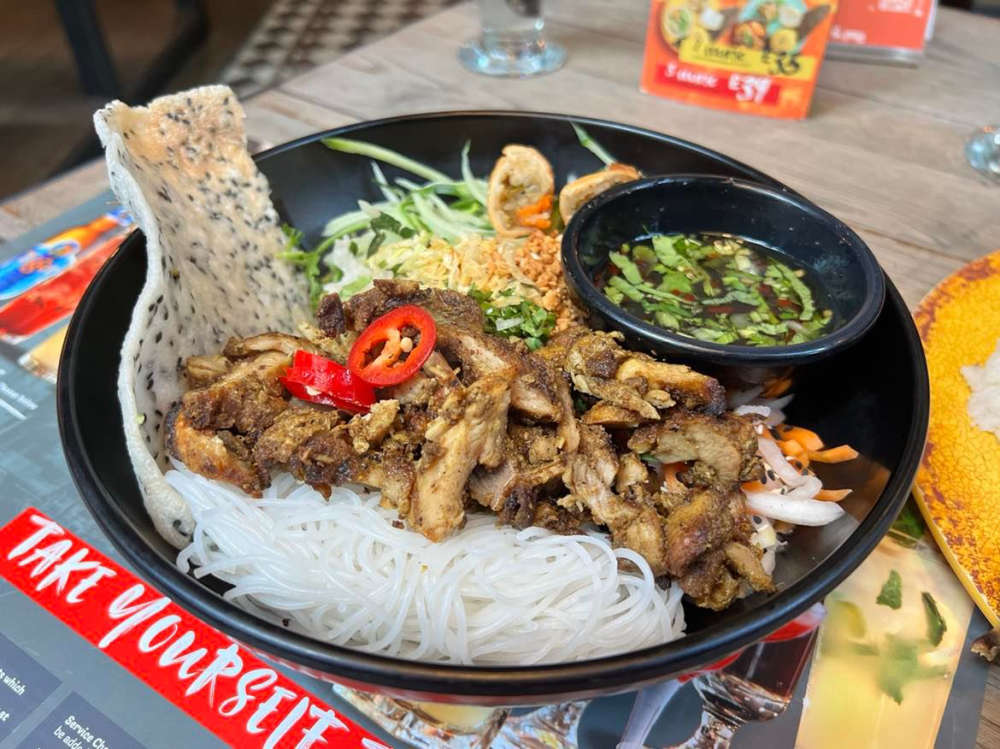 This dish is full of flavours, the Nuoc Cham sauce (a fish sauce) adds a nice sweet, salty and tangy flavour to everything as I dipped most things in to try it with. The vegetable spring rolls were lovely and hot, light and crispy,
and filled with goodness. The chicken was cooked perfectly, it tore nicely and it was a great mix with the noodles and Nuoc Cham, this sauce by far is a new favourite of mine.
I have never tried a sesame cracker before, it was a great side, a light crunch but soft when chewed, I enjoyed breaking it up and adding it to everything else including the sauce of course, delicious. This dish is packed full of vitamins and all things healthy, and, is never shy of salad, the perfect summer's day dish.
Three Mochi Balls were bought out to me for my chosen pudding, I have never tried them before but was instantly intrigued by the look of them as they look like balls of ice cream. They were nice and soft on the outside with a chewy ness when bitten into, then soft again once broken down. Very true to flavour especially the mint tee Mochi Ball, an unusual but pleasant taste. The mango Mochi Ball was lovely and sweet and tasted like mango ice cream. They were all very sweet and soft, squishy and chewy and I thoroughly enjoyed them, I could have easily eaten a couple more of the mango ones.
You can either choose from the 2-course or 3-course Pan-Asian bottomless brunch, the 3-course left me and my partner with very satisfied bellies, we had so much fun relaxing and chatting away on the hammocks afterwards.
I couldn't be more grateful to have been given the opportunity to have my first bottomless brunch at Banana Tree.
If you are a serial bottomless bruncher or a first-timer and you haven't or would like to experience it at Banana Tree, then don't think about it any longer!
Book here.